Roussillon Nouveau Wines are out!
With every 3rd Thursday of October comes the release of the first wines from the vintage in PGI Côtes Catalanes in Roussillon. This year, the harvest started historically early with the first grapes picked in the beginning of August, already heralding a great vintage!
Stemming from the vines, a favorable climate and most importantly from the work of passionate men and women, the 2017 Nouveau Wines convey the spirit of the vintage. Whether red, rosé or white these wines are carefully crafted to be enjoyed young. In the glass, they offer delicious aromas of fruit and white flowers.
The production is similar to 2016 volumes with about 1 248 hl for 170 000 bottles, 46% of which are reds, 40% white and 14% rosés.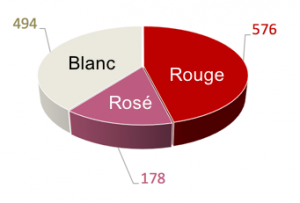 The release of the Nouveau Wines is also a festive gathering during which winegrowers are happy to present their new vintage to the public. It is a great opportunity for the public to enjoy some time between friends and taste the very first 2017 wines from Roussillon!