2018: The Year of the Woman (winemaker) in Roussillon
One would think that winegrowing and winemaking, especially in the south of France, would be a boys-only club. But, believe it or not, the Roussillon has its fair share of women winemakers!
To be more precise, twenty-nine domains in all: sixteen estates exclusively owned by women, and another thirteen principally run by a woman.  In two cases, the domain is owned/managed by a mother and daughter team; in four cases, a woman took over the reins upon the death of her husband.
Let's meet some of them: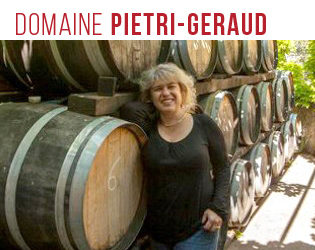 Domaine Pietri-Geraud was founded at the end of the 19th century in Collioure. Five generations of the same family, and the last two are female: for the past 35 years, the domain has been run by a woman, Maguy Pietri-Geraud, now replaced by her daughter Laetitia (above). On 20 hectares (50 acres) of vineyards, ¾ of which are on the steep, terrassed slopes of Collioure and Banyuls, they grow native grape varieties in the challenging schistic soils, which give low yields (only 22hl/ha). Laetitia says she makes certain Banyuls exactly the way her grandfather did. Her home is her office, and vice versa.  She thinks it was harder for her mother as a female winemaker when she took over the estate 35 years ago, than it is for her, the younger generation, now.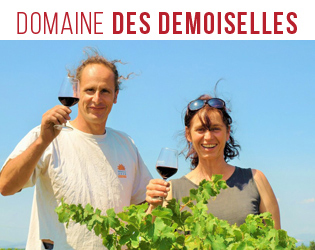 Isabelle Raoux –who took over from her grandmother – is the latest in a long line of women running this organic domain, located on 30 hectares (75 acres) of clay-stoney soils in the Les Aspres terroir. Using the classic grapes of the region (Grenache blanc, Carignan and Syrah), she makes dry red and white wines, as well as Vins Doux Naturels Rivesaltes and Muscat de Rivesaltes (Fortified Sweet Wines). Didier van Coteghem, her partner (above, with Isabelle) works in the vineyards and does the harvest, while Isabelle is responsible for the vinification and the marketing of the wines.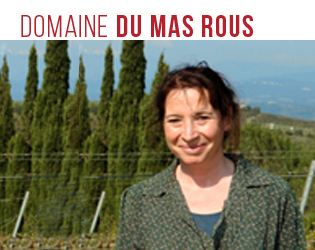 Nathalie and José Pujol (above) married in 1985, 2 years after he took over his family's farm and converted it exclusively to viticulture. As Nathalie puts it: "We built everything together".  Following the untimely death of her husband, Nathalie continues running the domain, located in the Albères sub-region on 40+ hectares (100 acres) of granite and grey schist soils. It has been certified organic since 2014.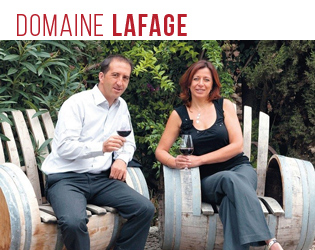 Eliane and Jean-Marc Lafage own and farm Domaine Lafage, an organic estate that covers 160 hectares (400 acres) ranging from Perpignan to the foothills of the Pyrénées Mountains. They have been running the domain together for over 15 years. Says Jean-Marc: "My focus is on the vineyards, and Eliane is queen of the cellar, but we decide on the blends together." They look forward to having their children, Léa and Nicolas, still very young, take over the vineyards one day. Léa is on the way… learning oenology.