272 medals awarded during the 2019 Grenaches du Monde Competition
The 2019 Grenaches du Monde Competition took place on April 17 and 18, 2019, in Perpignan, European Wine City, returning to its homeland for its 7th edition.
In the home of the four Grenaches, 272 gold and silver medals were awarded after a blind tasting session including 869 wines.

2019, a record edition
With 869 wines presented from six countries (France, Spain, Italy, USA, Chile, South Africa), the Grenaches du Monde competition beat in 2019 a new participation record, attesting the rise of a competition that has become over the years an international reference event.
This year, 177 gold medals and 95 silver medals (France, 86 medals, Spain, 141 medals, Italy, 43 medals, South Africa, 1 medal, USA, 1 medal) were awarded by the jury.
80 specialized journalists, wine merchants, sommeliers, winemakers, buyers and specifiers from 15 different nationalities tasted the wines in competition.
2019, a return to the homeland
After visiting Aragon in 2016, Sardinia in 2017 and Catalonia in 2018, Grenachex du Monde made its comeback this year by returning to Roussillon, Land of Four Grenaches.
Of the 869 wines presented, 195 were from Roussillon, 60% more than last year. "Beyond the title of European Wine City awarded to Perpignan this year, it was important for Roussillon wines that Grenaches du Monde return to their birthplace after 3 years of roaming. Philippe Bourrier, President of the Conseil Interprofessionnel des Vins du Roussillon".
Grenaches du Monde, showcase of Roussillon terroir
Beyond the competition, Grenaches du Monde represent a true international showcase for Roussillon vineyards. The jury, coming from Europe and from all over the world, was able to discover the soil and Roussillon's heritage during two afternoons devoted to visits and tastings.
"The Grenaches du Monde Competition is a great showcase for Roussillon wines. This is a unique opportunity to bring together Grenache specialists from around the world and to introduce them to our know-how and our terroir. "Explains President Philippe Bourrier.
In addition, the wines of Roussillon shine in the charts with a total of 78 medals out of the 272 awarded, including 50 in AOC Collioure, Côtes du Roussillon, Côtes du Roussillon Villages, dry Maury and IGP Côtes Catalanes; but also 28 for AOC of Sweet Natural Wines: Banyuls, Maury and Rivesaltes.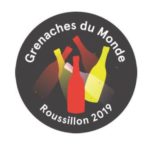 La Nuit des Grenaches
The Grenaches du Monde Competition is also a public event thanks to La Nuit des Grenaches held on Thursday 18 April at the Palais des Congrès in Perpignan. This evening, which is part of the program of events of Perpignan European Wine City 2019, brought together all passionate about Grenache wines from around the world.
The Grenaches du Monde Competition
Created in 2013 in Perpignan at the initiative of wines of Roussillon and became itinerant since 2016.
The Grenaches du Monde competition is an annual competition open to all wines with a geographical indication mostly from Grenache, without restriction of color, origin or nationality . Similarly, all types of wine can be presented: dry wines, sweet wines, natural sweet wines or sparkling wines.