Roussillon awarded « Wine District of the Year » in Sweden

This year, the wine-growing region Roussillon has been selected as « Wine District of the Year 2020 » by the Swedish association Munskänkarna.
Founded in 1958, Munskänkarna is a non-profit organization of wine tasters and wine lovers with around 35 000 members mostly in Sweden but also expatriates, making it the largest association of this kind in the world.
This association counts in its ranks professionals from the wine sector. Its main aim is to develop knowledge of wine through a program of education, tasting and also knowledge of the wine branch with an advanced training on three levels. It also publishes the specialized Swedish monthly magazine Munskänken.
Each year, the title of « Wine District of the Year » is awarded to a region or a city, which will be honored during the association's activities, events or promotions all year long, mainly in Sweden.
Previous awarded areas and cities were Barbaresco in 2019 and Epernay in 2018.
From 19 to 23 February 2020, the CIVR welcomed a delegation of 7 of the most eminent members of Munskänkarna, during a program of visits of wineries and wine tastings. These members had the possibility to discover the vineyards and the Wines of Roussillon, its local uses and its specificities. They also had the possibility to talk with producers and were honored to be inducted into « La Commende Majeure » of Roussillon.
After being awarded « Perpignan European City of Wine » in 2019 (Perpignan Ville Européenne du Vin), the nomination of Roussillon as « Wine District of the Year 2020 » gives hope for great opportunities to strengthen the links between Sweden and Roussillon and to develop the image of Roussillon wines as well as their exportations.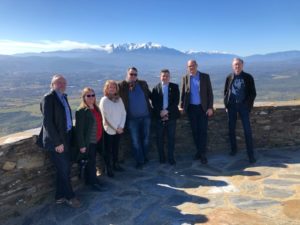 THE WINES OF ROUSSILLON
With 14 « Appellations d'Origine Protégées » and 2 « Indications Géographiques Protégées » the Conseil Interprofessionnel des Vins du Roussillon (CIVR) federates more than 400 wineries, 29 cooperatives and more than 100 wine merchants. During the 2018-2019 campaign, the Wines of Roussillon have sold nearly 64 million 75cl equivalent bottles : 73% of dry wines (reds, rosés and whites) and 27% of Vins Doux Naturels (fortified wines).
In 2019, the volume of exportations to Sweden accounted for more than 50 000 bottles and a total revenue of 200 000€.