Wondering when you'll be able to go on an exotic vacations?
Don't worry, we've got your back! Try the easy to make and delicious fish tacos paired with PDO Collioure white. It will transport you to the most wonderful beaches instantly.
The pairing could be made also with a white from PGI Côtes Catalanes or PDO Côtes du Roussillon.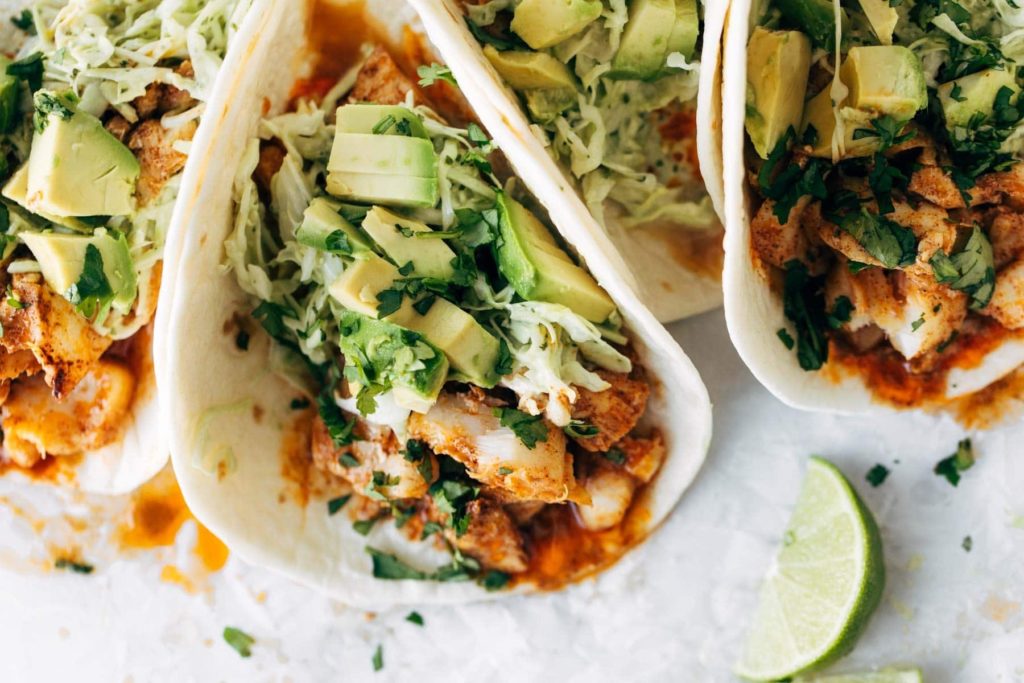 Ingredients
3 tablespoons butter, melted
juice of 1 lime
1 teaspoon chili powder
1/2 teaspoon garlic powder
pinch of salt
10–15 oz. cod or other white fish, thawed
tortillas and avocados for serving
slaw for serving (see notes)
Steps
Preheat oven to 400 degrees. Mix butter, lime juice, chili powder, garlic powder, and salt in a small bowl. Pour mixture over the fish. Bake for 10-15 minutes.
Flake apart the fish and coat with the extra sauce in the pan.
Make your dressing and pour it on the cabbage. See more in notes section
Prep your toppings (mashed avocado, slaw, red onion, mango salsa, whatever you like). Serve fish in tortillas with toppings!
Notes
Slaw: Make a sauce by blending 1/4 cup oil, 1/4 cup water, 1/2 cup chopped green onions, 1/2 cup cilantro, 1-2 cloves garlic, juice of 2 limes, 1/2 cup sour cream or Greek yogurt, and a pinch of salt. Pour sauce over shredded cabbage to make a slaw!